SPC- flooring Parallel Twin-Screw extrusion Line is the most mature flooring extrusion machine in China, its performance, stable operation, high output, low energy consumption, screw life of more than 180 days, Successive By ISO, CE, UL Quality certification system.
The actual extrusion capacity of the newly developed flat double extruder of Richon Machinery is 3500kg/h (SPC flooring)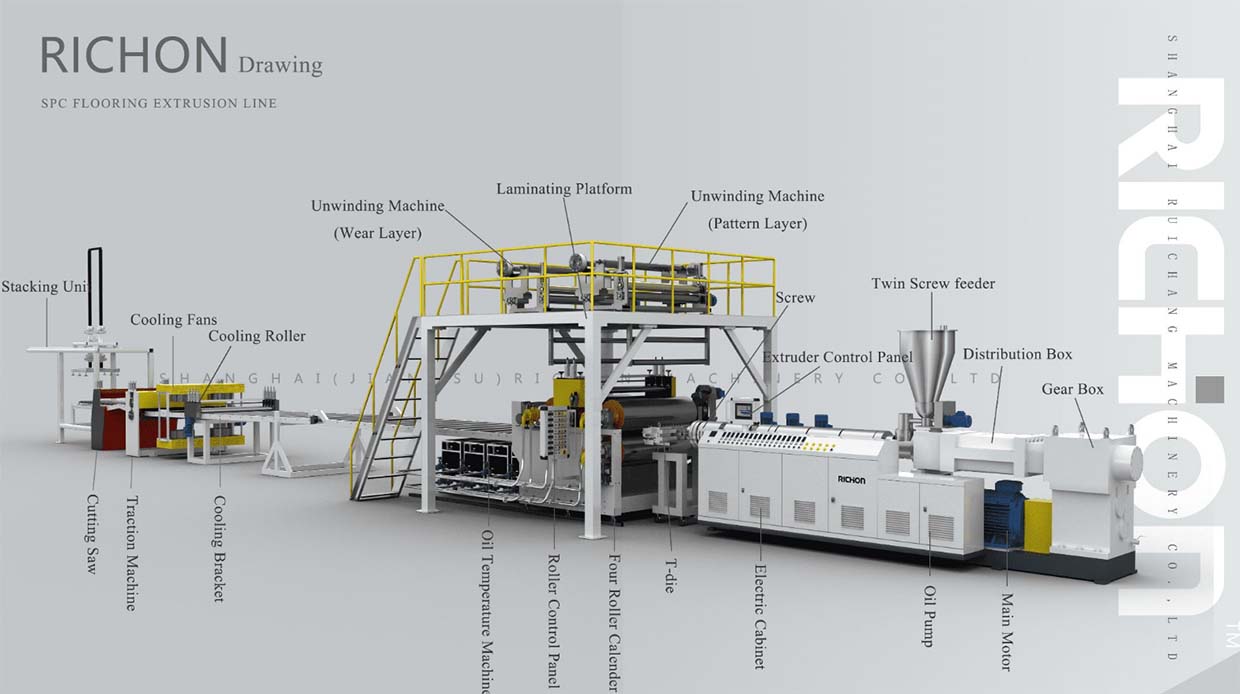 SPC Flooring Extrusion Line Application:

SPC flooring production line can be used to produce SPC Vinyl flooring and LVT flooring, SPC flooring has a good commercial prospect:

● 100% Environmental protection: The main raw materials of the SPC floor are high-quality PVC resin, high-grade calcium powder, natural environmental protection, 100% free of formaldehyde, lead, benzene, no heavy metals and carcinogens, no soluble volatiles, no radiation.
● Super antiskid: SPC Floor wear-resistant layer has a strong anti-skid performance, in the case of water, not easy to slip.
● Antibacterial and mildew proof: After special anti-bacterial and antifouling treatment, its surface has a strong killing ability to most bacteria, and can effectively inhibit bacterial reproduction.
● Suitable underfloor heating: SPC floor has good thermal conductivity and heat dissipation capacity. It is the first choice for floor heating and energy saving.
● High elasticity and toughness: People are not easy to be injured when they fall accidentally.
● Super wear resistance: The wear-resistant layer can be used for 10-50 years under normal use.