The thickness range of the foam board is 1-40mm, and the thinnest is 1mm. The production process is stable and efficient. It is an ideal choice for making the thin plate. The foam board production line is independently developed by our company referring to German technology. The extrusion part is composed of parallel twin-screw extruder, plate mold, setting table, cooling bracket, traction machine, cutting machine, manipulator, etc. The extruder adopts a parallel twin-screw extruder, and the production line adopts imported electrical appliances, such as Siemens motor, ABB Inverter, Omron temperature control meter, Schneider and other brands, with stable operation, excellent performance, and long-time fault-free operation.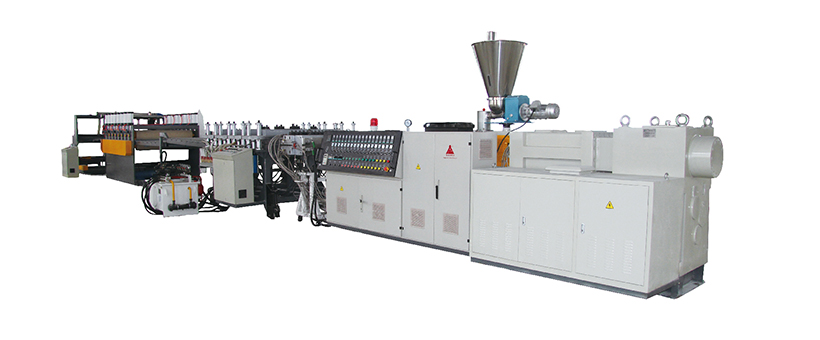 PVC Foam Board Application

Decoration Board for Kitchen Cabinet. Furniture Board, Bathroom Board Building template, Construction Board, WPC Indoor Flooring Base, Advertisement Board.

Other Application

Architecture decoration industry: building formwork board, outdoor board, indoor decoration board, residential house, office, separation of the public building, commercial decoration frame, the board used in the dust-free room.

Household decoration: bathroom cabinet board, furniture board, home decoration board, various household shelves.

Advertisement industry: screen printing,computer engraving,ad board,exhibition plate,logo plate.

Transport industry: ship, plane, bus and train, floor covering, the core layer, indoor decoration plate.

Industrial application: rot proof project in chemical, industry, thermal shaped part, plate for refrigeration warehouse cool-keeping protection plate. Other applications: construction formwork, sports apparatus, aquaculture material, seashore wetproof facility,water-resistant material, art material, and all sorts of light separation plate.

The feature of PVC foam board

1、Waterproof、anti-flame、 anti-acid& akali、anti-moth、 light weight、heat preservation、sound insulation、shock absorption.

2、It can be carved and bent,the surface can be covered with film, can be transferred,the process same with wood, but manufacturing performance is much better than wood.

3、Ideal substitute for wood、aluminum、composite board, often used for bathroom cabinet board, floor, screen, floor, door board.